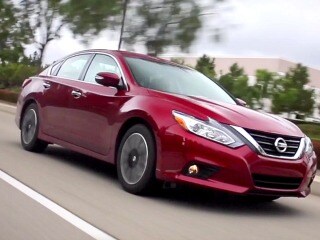 The 2017 Nissan Altima is a vehicle that separates itself from the rest. From its sleek, aerodynamic exterior to its luxurious and comfortable interior this sedan will have heads turning everywhere you go.
With leather seats and dual climate control you'll feel right at home with comfortability. Keep the peace and let your passenger decide how warm or cool he wants his side of the cabin to feel. Nissan didn't forget those back seat passengers either; with new, larger back seat vents everyone can have an enjoyable ride.
With Nissan Connect this vehicle acts like a computer on wheels! From starting your Altima from your personal Cell Phone to Turn-by-Turn GPS directions the Nissan Altima makes everyday tasks much easier. With Google search you can ask for nearby restaurants or find a gas station with the best prices! The Altima also offers hands free calling and Caller ID. While riding in the new Altima you won't miss a beat. With 9 speakers that are custom tuned for the best acoustics in the cabin, your everyday commutes will be accompanied by your own personal concert! (Just be sure you have a good DJ!)
Safety is at the top of the Altima's priority list with 6 airbags throughout the cabin ensuring that you will be safe while riding in this sedan. Airbags aren't the only safety feature this vehicle offers. The Altima also has Blind Spot Warning, Predictive Forward Collision Warning, and Rear Cross Traffic Alert.
Nissan also gives you the choice between the POTENT 4 cylinder engine with 179 Horse Power that get around 39 MPG (Highway) and the LEGENDARY V6 engine with 270 Horse Power that gets around 32 MGP (Highway). With Nissan's XTRONIC CVT Transmission you are in control of this road warrior. It provides you with the high, steady RPM power when you need it, and the quiet RPM when you are on a cruise.
Is the 2017 Nissan Altima the vehicle for you?
Come in and check it out!